AteloCell®
Collagen for Cell Culture
Show product list
Product list
Atelocollagen Microspheres

Outline
Atelocollagen microspheres are microbeads-like atelocollagen scaffold for cell culture. This carrier is useful for culturing adhesive cells such as fibroblasts, epithelial cells and osteoblasts due to its ability to maintain cell functions.
Applications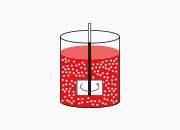 High-density culture
        (Mass-culture)
Features
Collagen microspheres create an in vitro-like environment because they are produced exclusively from fibril-forming type I atelocollagen.
Cells are easily harvested by collagenase treatment.
Types of collagen
Bovine dermis derived atelocollagen
Cat. No.
Product
Packaging
Price
MIC-00

Atelocollagen Microspheres  Sterilized
Surface area: approximately 3,800 cm²/15mL
Size: 100-400μm
Approximately 3 million particles

15 mL/bottle
Visit distributor's
web page
Storage: 2-10℃ (Do not freeze)  For research use only.
Click here for frequently asked questions about Atelocollagen microspheres
References
Bone, Cartilage
Miscellaneous
Efficacy of bone regeneration using collagen microspheres as scaffold.
Shunsuke Baba, Naoyuki Matsumoto, Yuki Kaneshita, Kaoru lnami, Hidetoshi Morikuni and Takayoshi Kawazoe.
J Osaka Dent Univ. 2008. 42(1), 9-15.

Mandibular reconstruction using a combination graft of rhBMP-2 with bone marrow cells expanded in vitro.
Seto I, Marukawa E, Asahina I.
Plast Reconstr Surg. 2006 Mar;117(3):902-908. PMID: 16525283
Propagation of human nasal chondrocytes in microcarrier spinner culture.
Shikani AH, Fink DJ, Sohrabi A, Phan P, Polotsky A, Hungerford DS, Frondoza CG.
Am J Rhinol. 2004 Mar-Apr;18(2):105-12. PMID: 15152876

The role of osteopontin on calcium oxalate crystal formation.
Konya E, Umekawa T, Iguchi M, Kurita T.
Eur Urol. 2003 May;43(5):564-71. PMID: 12706004

Collagen microcarrier spinner culture promotes osteoblast proliferation and synthesis of matrix proteins.
Overstreet M, Sohrabi A, Polotsky A, Hungerford DS, Frondoza CG.
In Vitro Cell Dev Biol Anim. 2003 May-Jun;39(5-6):228-34. PMID: 14613330

The effect of osteopontin immobilized collagen granules in the seed crystal method.
Umekawa T, Iguchi M, Kurita T.
Urol Res. 2001 Aug;29(4):282-6. PMID: 11585285

Beta-1 integrin expression by human nasal chondrocytes in microcarrier spinner culture.
Bouchet BY, Colón M, Polotsky A, Shikani AH, Hungerford DS, Frondoza CG.
J Biomed Mater Res. 2000 Dec 15;52(4):716-24. PMID: 11033555

Human chondrocytes proliferate and produce matrix components in microcarrier suspension culture.
Frondoza C, Sohrabi A, Hungerford D.
Biomaterials. 1996 May;17(9):879-88. PMID: 8718933

Comparative histological studies of bone and cartilage formations induced by various BMP-carrier composites.:Comparative histological studies of bone and cartilage formations induced by various BMP-carrier composites.
Liliana Missana, Noriyuki Nagai and Yoshinori Kuboki
Japanese Association for Oral Biology 36(1), 9-19, 1994

Cross-linked collagen gel spheres as a useful carrier for cell culture of MC 3T3-E1 clonal osteogenic cells.
Morimichi Mizuno, Tomoyo Kasagi, Yoshinori Kuboki.
Japanese J. Oral Biol. 1988 30(6):855-8.


Type I collagen can function as a reservoir of basic fibroblast growth factor.
Kanematsu A, Marui A, Yamamoto S, Ozeki M, Hirano Y, Yamamoto M, Ogawa O, Komeda M, Tabata Y.
J Control Release. 2004 Sep 30;99(2):281-92. PMID: 15380637

Expression of vascular endothelial growth factor promotes colonization, vascularization, and growth of transplanted hepatic t issues in the mouse.
Ajioka I, Akaike T, Watanabe Y.
Hepatology. 1999 Feb;29(2):396-402. PMID:9918915

Correlation between cell-adherent activity and surface structure in Porphyromonas gingivalis.
Watanabe K, Yamaji Y, Umemoto T.
Oral Microbiol Immunol. 1992 Dec;7(6):357-63. PMID: 1363734